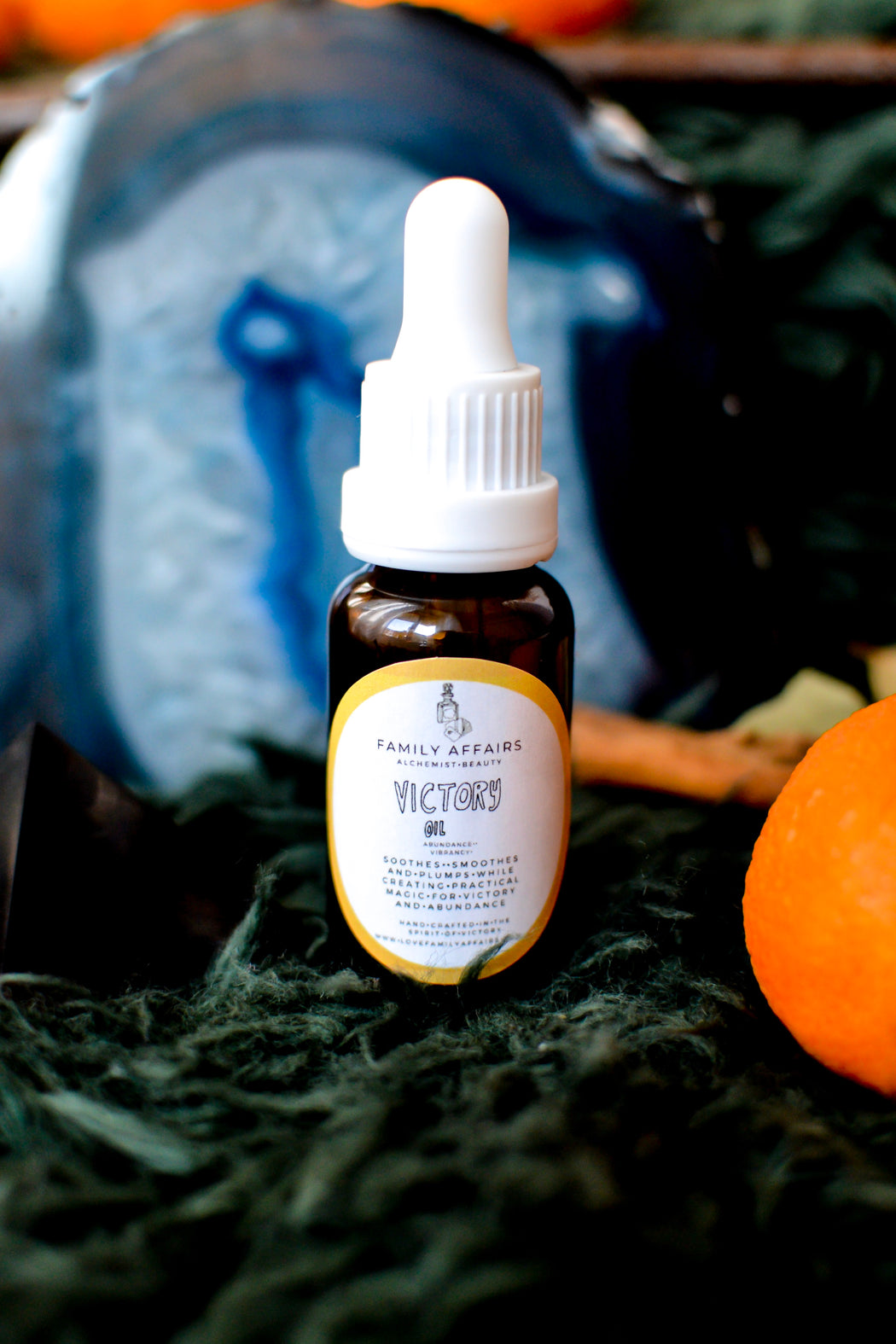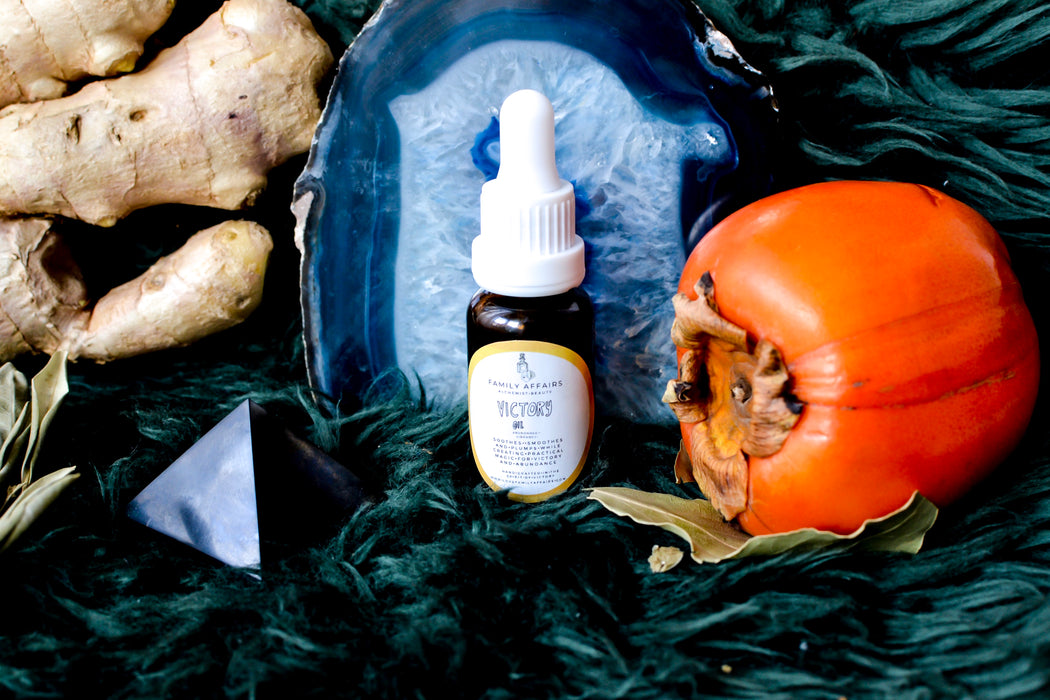 Victory Magic Face Oil
Do you want to finish that big project with fireworks and some gold coins? Do you want to feel grounded and lucky? Do you want to have that extra victorious magic mojo?

It's right here in the Victory Magic Face Oil!
I started developing this oil for myself. I would put it on to get a lot of s*** done. Then my girlfriends WANTED it and I ended up creating this potion which is both a face oil and a magical elixir.
Employing the botanical cosmetic benefits of flowers, herbs, oils and essential oils. And then adding a whole other layer to this smoothing, plumping face friend: the magical herbalism layer. Each of the ingredients come carrying gifts for you: Luck, Prosperity, Fire.
My intention is for you to take those few minutes to lovingly massage the Victory oil into your precious face, imagine what you are wanting to accomplish and manifest that day. Hold this vision in your mind's eye while feeling and smelling the Victory oil. It will anchor that vision for you during the day. Carry it along and reapply in case you need a dose of support and clearing.
I am loving making the oils. The process starts with solar, moon and quartz crystal infusing Hyssop, Anise seeds and Cinnamon bark in olive oil (for abundance and face glow) and almond oil (fertility), surrounded by cleansing selenite. Later I add the other beauty and magic oils on lucky days. . It's a long and fun and creative process.
How does it smell?!
It smells fresh, earthy and positive - like you just dug up a pot of gold in the forest and are now rejuvinated and happy, sitting on the veranda of your villa in Rhodos with the ocean air coming in warm and dipped in moss while you drink a chai with almond milk.

If you want to sample it, check out the trial vial for free and I will send you a sample.
Application
Add a few drops or more into the palm of your hands and massage into your freshly washed, still dewy face and neck. Rose water spray works great for this!
List of ingredients / beauty and magic properties:
Cinnamon bark and Cinnamon essential oil: tightens and plumps your skin, speeds up manifestations, removes blocks to achieve success or to receive.
Star Anise seeds, reduce dark marks and wrinkles, elegance, royalty, protection, luck.
Hyssop: remover of old thought patterns
All spice: the spark of creativity
Patchouli essential oil: toning, astringent, anti-inflammatory, smoothing, attracts wealth, earthly possesions, grounding, happy home
Nutmeg essential oil: helps skin renew and heal itself. Magical properties; super lucky, helps you uplift sluggish emotions, increases spontaneity, being happy in the now
Clove essential oil: minimizes pores and tightens skin, breaks down obstacles
Oils: Almond, grapeseed, coconut, olive, peach kernel, pomegranat oil, seabuckthorn, rose hip
Pomegranat oil: a little face lift, nourishing.
Seabuckthorn oil: healing, anti aging
Rose hip oil: evens out skin tone
This face oil is best applied in the colder months and not in bright sunlight because it has light sensitive ingredients.